There are multiple ways to make sure employees clock out for lunch or breaks:
Set up manual breaks for your employees. You can learn more here.
Manually add a break to each employee's time. To do so, go to the web/desktop app and click on the pencil icon next to the timesheet you want to edit. There will be an option to edit or add a lunch break to an existing timesheet. When a lunch break is inserted you will see a fork and knife icon next to it.🍴
Using the Automatic Lunch Break feature. You can learn more about the automatic lunch deduction feature here.
How do I take a break
How to take breaks from the mobile app
Breaks are available on the Timeero iOS and Android apps. To utilize breaks on the mobile apps, there has to be at least one break rule set up.

Once a break rule has been set up by your Admin, there will be an option to start a break in the mobile app. In order to see the start break button, the user has to first clock in and the button will appear as below: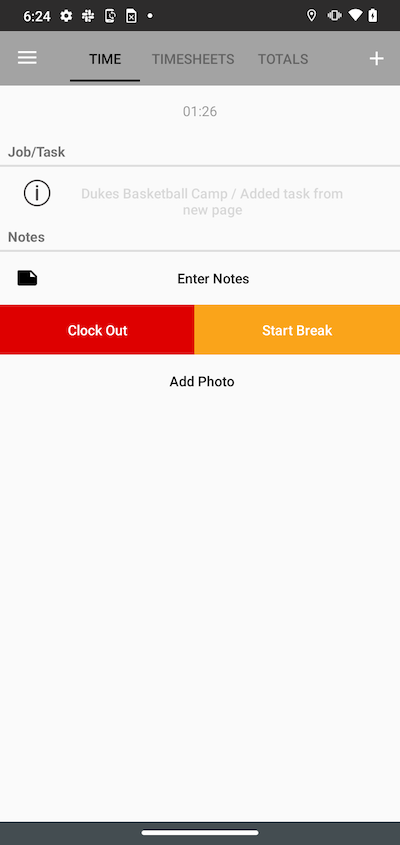 After selecting Start Break, you can select the break type from the list.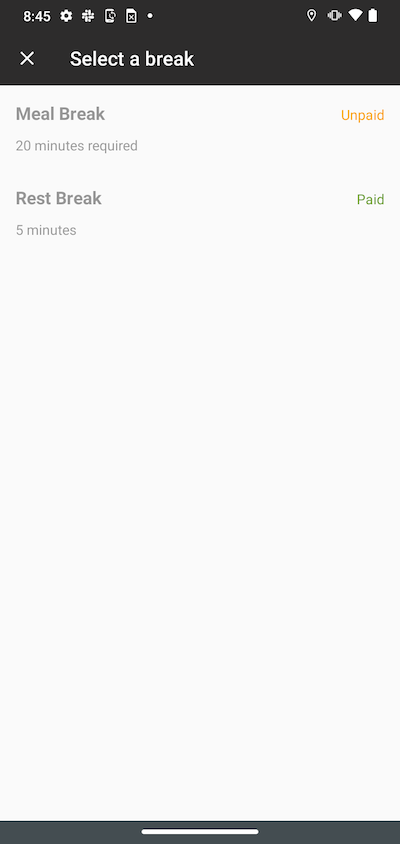 Selecting a break rule from the list of breaks
When you are clocked into a break, your location is not being tracked
There are 3 rules that your Admin can set for your break types:
Workers can't end the break early. If this has been set by your Admin, you will not be able to end your break earlier than the set duration. If you tap the End Break button before the set break length, you will receive a message that says you cannot end your break early.
Automatically end break when the duration ends. If this has been set by your Admin, you will not need to tap the End Break button to stop your break. The break will automatically end when the duration is over.
Notify the user when the break ends. If this has been set by your Admin, you will be notified that your break has ended.
Please contact your Admin to learn more about break rules & policies set for the company. Depending on the break rules assigned by your Admin, will determine if you will need to choose 'End Break' when your break is over.
How to add a break in the web portal
In order to add a break, you first need to clock in.
Go ahead and clock in on the web app. Once you are clocked in, there will be an option to choose Start Break.
Click on Start Break and you should be presented with an option to choose a Break Type.
Choose the Break Type you want to use for your break.
When your break is over, click on End Break.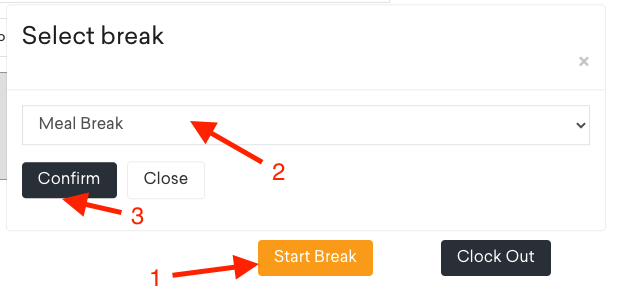 Starting a break as an employee on the web