Break Planning gives you the ability to customize employee breaks and break types. For instance, you can create meal & rest breaks for your team, as well as paid & unpaid breaks.

In Timeero, there are three kinds of breaks ☕️:

1. Automatic break - this is a break that is automatically inserted into timesheets after a certain amount of hours have passed. We highly encourage you to check your state laws or consult an employment/labor law attorney in your state or country before using this feature. Learn more about automatic breaks here.
2. Manual break - this is a break that each user will start & end manually, right from their mobile apps. GPS tracking and mileage tracking stop when a user is on a break.
3. California Breaks - this is also a manual break, but includes daily sign-offs. To configure breaks for California workers, click here.

How to Add Break Rules for Manual Breaks
To use manual breaks, you first need to turn it on. Go to Company Settings > General and then turn on Allow users to take breaks manually.
Next, set up break rules. Go to Company Settings > Breaks.
Add a break type by choosing Add Break Rule. Give your break a name, preferably something your team can understand—for example, Lunch or Rest. Enter the length of the break if that is required. There is an option to prevent workers from ending a break early if the break has a set length. If you'd like your staff to choose the length, check the box next to No set length. Select unpaid if you want the break to be deducted from the employee's total duration on a time entry.
When finished, be sure to click the Add Break button to save your changes. When a user is clocked in, they will see a Start Break button. Once that button has been selected, a list of Break types will appear for the user to choose from. Those break-type choices are the break rules we just created.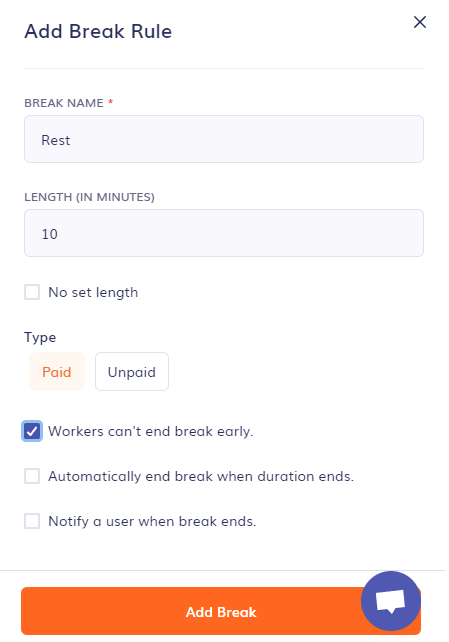 Managing Break Rules
Edit - Click on the pencil icon.
Deactivate - Click on the circle icon.
Delete - Click on the trash can icon.
A deactivated break rule will not be available to your team but will remain in the account if you want to re-activate it later. A deleted break rule cannot be reactivated.

How to add a break from the mobile app
To utilize breaks on mobile apps, there has to be at least one break rule set up.
Once a break rule has been created, there will be an option to start a break in the mobile app.
In order to see the start break button, the user must first clock in, and the button will appear as below.
Click on Start Break to start your break. After selecting Start Break, you can select the break type from the list. Click the End Break button to stop your break.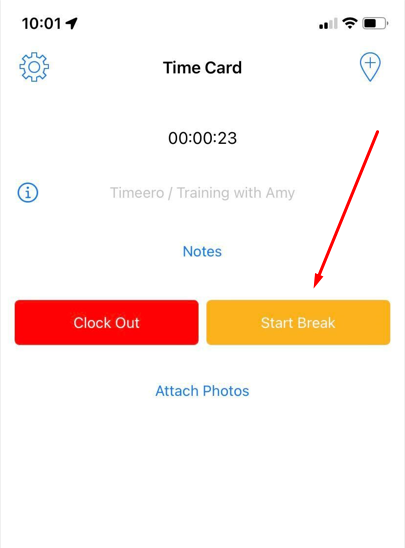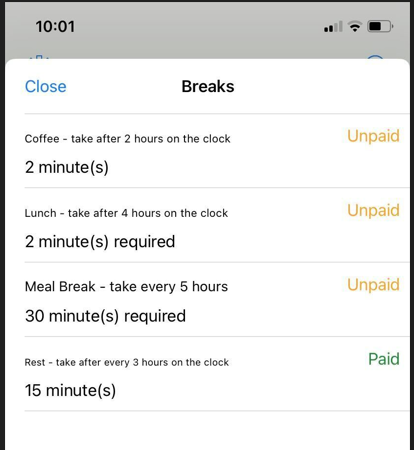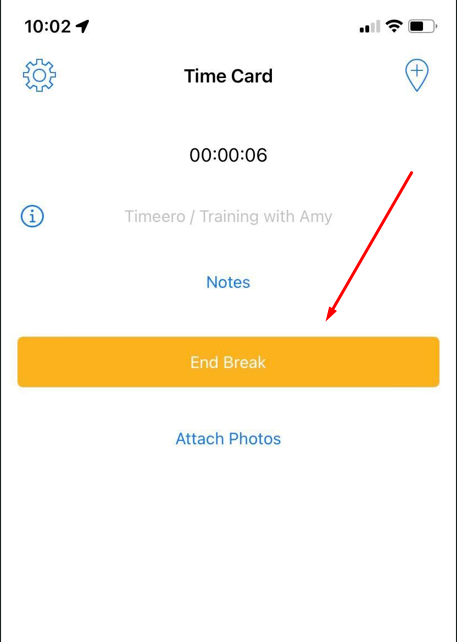 Click HERE to download a FREE break policy template your staff can sign
Only Admins can manage break rules inside of Timeero