Timeero mobile apps periodically sync changes in a smart and efficient way.

The iOS and Android apps are built to work offline so you can continue tracking time even when you do not have WiFi or a data connection. Once you are within a reasonable connection range, you can re-open your app and your data will be synced up.

Some changes made on or outside your device may not manifest immediately. For example, if a job or a scheduled shift is added by your administrator, it may take a few minutes before it shows up on your device.

If you want changes to appear immediately on your mobile, you can trigger a sync by going to Settings and tapping on the sync button. This will manually force a sync on your device, hence all your changes on the device will be pushed to the cloud (if they haven't already), and the latest changes from the cloud will get saved on your phone.
Android:
Tap the menu button at the top left-hand side of your screen. The menu button is the 3 horizontal lines,
Open settings
Then Tap to manually sync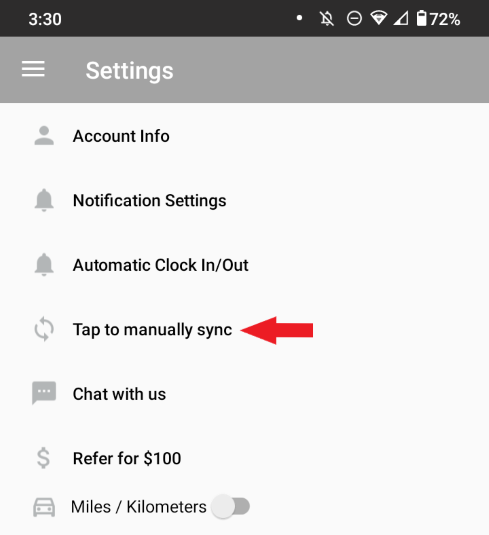 iOS:
Tap the gear icon located at the top left hand side of your screen
Then Tap to manually sync