How do I view only approved timesheets in reports?
By default, when you run a report, all timesheets - approved and pending approval - will be included in the report.
To show only approved timesheets in your reports:
1. Log into the web portal
2. Click on the orange gear icon located at the top right-hand side of your screen to access Company Settings
3. Click on Reports
4. Turn on the toggle next to Show only approved time/mileage
5. Click Save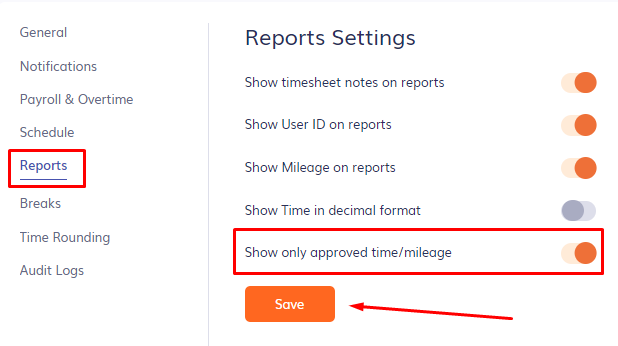 Still have questions? Get in touch with our amazing support team:

Phone: 1-888-998-0852 - Monday-Friday 9 am-5 pm MST

Live Chat: Monday-Friday 7 am-5 pm MST, and Saturday, 9 am-3 pm MST - To reach us via live chat, log into the web portal & click on the orange bubble at the bottom right of your screen.

We are closed on Sundays.