Our Premium Plan offers a way to monitor which users are turning off their GPS after they clock in.
With this feature turned on, it is important to advise your employees to turn off battery saver mode on their mobile devices. Battery saver blocks GPS signals in an effort to conserve the mobile device battery. Hence, if battery saver mode kicks on, the user will be automatically clocked out.
How does this feature work?
A user will receive the following message when the GPS on their phone is turned off: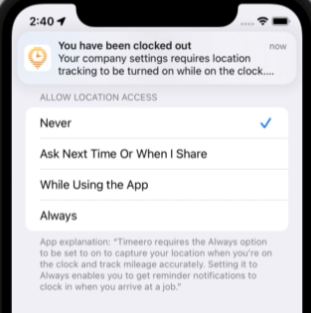 In order for the user to clock in, he or she must set the location permission for Timeero to Always (iOS) or Allow All The Time (Android).
While on the clock, if the user changes the location permission for Timeero to While Using the App, the user will not be clocked out.
The user will only be clocked out if the location access is changed to Never.
How do Admins know if a user has been clocked out due to turning off their GPS?
If the user has been clocked out due to turning off their GPS, a flag will appear on his or her timesheet. When you hover over the flag, you will see this message: