How does billing work?
Payments will auto-renew each month or year, depending on your plan. The credit card you entered when you subscribed will be charged.
Where can I find my invoice?
An invoice will be sent to your email on the day your card is charged. You can also access your next billing date, the amount that will be charged, and all of your invoices right from your account in the web portal. Click on your profile picture located at the top right-hand side of the screen and choose Account & Billing.
How do I change or add a new credit card?
Log in to the web portal and click on your profile picture located at the top right-hand side of the screen and choose Account & Billing. Next, click on change payment method. When you're finished entering your new payment details, click on Add Card.
How & when am I charged for adding new users?
If you are a monthly subscriber when a new user is added that charge is included on your next invoice. $5 per user on Standard, $10 per user on Premium. If you are an annual subscriber, when a new user is added your card is charged immediately. $55 per user on Standard, $110 per user on Premium.
How do prorations work?
Changes to your subscription, such as adding or deactivating users and upgrading or downgrading your plan, may result in prorated charges. For example, if you are currently paying $60 a month for 10 active users on the standard plan and decide to upgrade to the premium plan at $130 per month, you are charged prorated amounts for the time spent on each option. Assuming the change occurred halfway through the billing period, you would be billed an additional $35 ($65 for the remaining time on the premium plan minus $30 for the unused time on the standard plan).
We automatically adjust the amount of a customer's invoice to account for unused time on the previous plan they were subscribed to (what the customer has already paid for) and remaining time on the new plan. It's calculated to the second. The remaining time is how much was left at the time of the change.
The proration calculation is how much time was left on the plan minus the used time. This is what determines the amount of the invoice.
The same proration math, with unused time & remaining time, also applies to activating & deactivating users.
How does billing work for active vs. deactivated users?
You are charged for active users. We do not charge you for deactivated users. Active users are prorated. When you deactivate a user, that credit will be applied to the next invoice and shown as unused time. If you add a user (active user), instead of being charged, that user will take the credit/unused time from the deactivated user. We do not refund your credit card for deactivated users.
Here is an example of an invoice. It shows there were 5 users originally but 1 user was deactivated: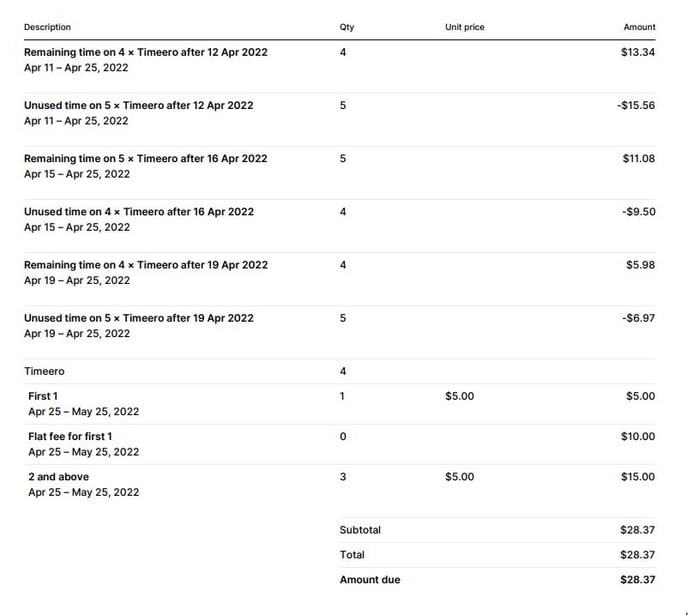 How do I cancel?
You may cancel at any time by logging into the web portal & opening the Account & Billing menu. Once there, simply click on Cancel Plan.