Setting up a Geofence for a Job is a great way to ensure Users are clocking in/out at the correct location.

Jobs are required for geofencing. To turn on jobs, go to Company Settings > General and turn on Require all users to select a job to clock in.
First, turn on track location for all users:
Log into the web portal
Click on Users
Select all users you'd like to turn on GPS tracking by clicking on the box to the left of their names. A blue checkmark will appear for each user that has been selected.
Once you've selected all users, scroll to the bottom of the page and click on the Track/Untrack Location button. You will be prompted to track or un-track the location for all selected users. Make your choice by clicking on the circle next to Track location for all selected users. Then, click Save.

Next, create the geofence:
Click on Jobs & Tasks
Click on the Pencil Icon located to the far right of the job name
Enter the job address under LOCATION DETAILS
Next, under the job address, click on Check box to reposition address on map. A pin will be placed on the map. The pin should populate correctly according to the address entered. If needed, click & drag that pin to the exact job location on the map.
Under the map, check the box next to Require Geofencing
Click & drag the bar under the map to adjust the geofence size. The geofence boundary cannot be set to less than 100 meters, as recommended by Apple and Google to ensure accuracy.
To save all settings, click on the Update Job button


This is a company-wide setup and will affect all users. Choosing specific users under the Geofence Actions will not work here. Read on to learn more about geofence actions.
How does it work?
When your staff clocks in or out outside of the geofence boundary, a flag will be displayed on the timesheet.

Block all users from clocking in outside of the geofence:
If flags are not enough, you can turn on the setting to block users from being able to clock in if they are outside of the geofence boundary.
Go to Company Settings > General
Turn on Require users to be within geofence to clock in
Click Save
With this setting, users who try to clock in before entering the geofence will receive this message and be blocked from clocking in.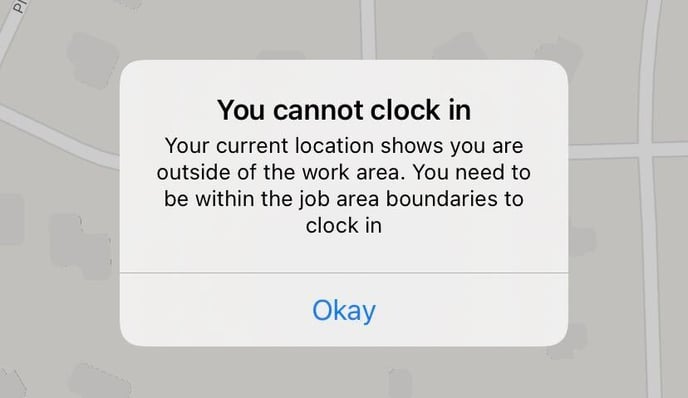 Notify users to clock in
Once users arrive inside the geofence, Timeero can send them a notification reminder to clock in. And when users depart the geofence, Timeero can send them a notification reminder to clock out. Follow these steps to turn that on.
Go to Company Settings > General
Turn on Allow automatic clock in/out reminders based on location
Turn on Require users to be within geofence to clock in
Click Save
Click on Jobs & Tasks
Click on the Pencil Icon to the far right of the job name
Locate Geofence Actions (far right of the page). On Arrival, turn on Show Smartphone Notification. On Departure, turn on Show Smartphone Notification.
Choose whom you want to receive the reminder notification by checking the box next to each name
Click the Update Job button