First, review timesheet data in Timeero by generating a report for the correct pay period.
Log into the web portal
Click on Reports
Choose the report you'd like to run. If you'd like to view and export timesheets for all users, choose the By Date Range Report. If you'd like to view and export timesheets for one user, select the By User or Group Report.
After generating the report, review the information to ensure accuracy. If you need to make changes, click on the pencil icon to the far right of each time entry. A new tab will open to allow editing. Once you save the change, you will be returned to the report. To view your edit, click on Generate Report.
Next, export timesheet data from Timeero to QuickBooks Desktop.
After generating the report, click Export and choose Export to QuickBooks Desktop from the dropdown list.

Open QuickBooks to sync.
In QuickBooks, click on File > App Management > Update Web Services.




Select the checkbox next to Timeero and click Update Selected. It's always a good idea to force an update before processing payroll, even if you have auto-run turned on. This ensures that all changes made in Timeero are exported to your QuickBooks account.
Next, view time & process payroll.
In QuickBooks, you can view employees' timesheets by going to Employees > Enter Time > Use Weekly Timesheet.
To process payroll, go to Employees > Payroll Center.




Open the Pay Employees tab, and under Create Paychecks, double-click on the date highlighted in green.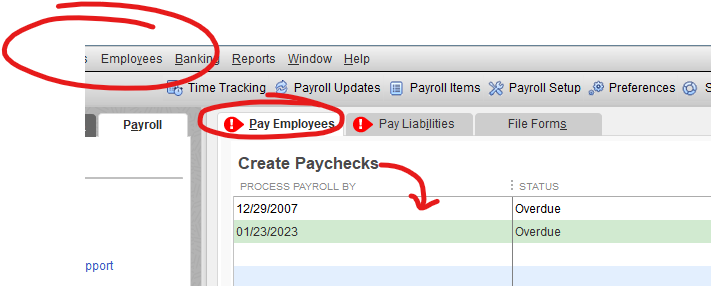 4. Select the employees you'd like to run payroll for by clicking to the left of each name to add a checkmark and then click Continue.

5. The employee's wage and taxes will populate.
6. Click Create Paychecks.