Jobs can represent a customer, a client, a job site or a task to be worked on. Adding jobs to your Timeero account is easy and can be done in the Web Portal or in the Mobile App.


Please watch the video for Web Portal instructions.
Click here for mobile app instructions.
How to Add & Manage Jobs
WEB PORTAL
Log into the Web Portal
Click on Jobs & Tasks
Click on Add Job - The only required field on this page is the Job Name. All other fields are optional.
Once you are finished entering all the Job details, Click On the Add Job button at the bottom, left-hand side of your screen.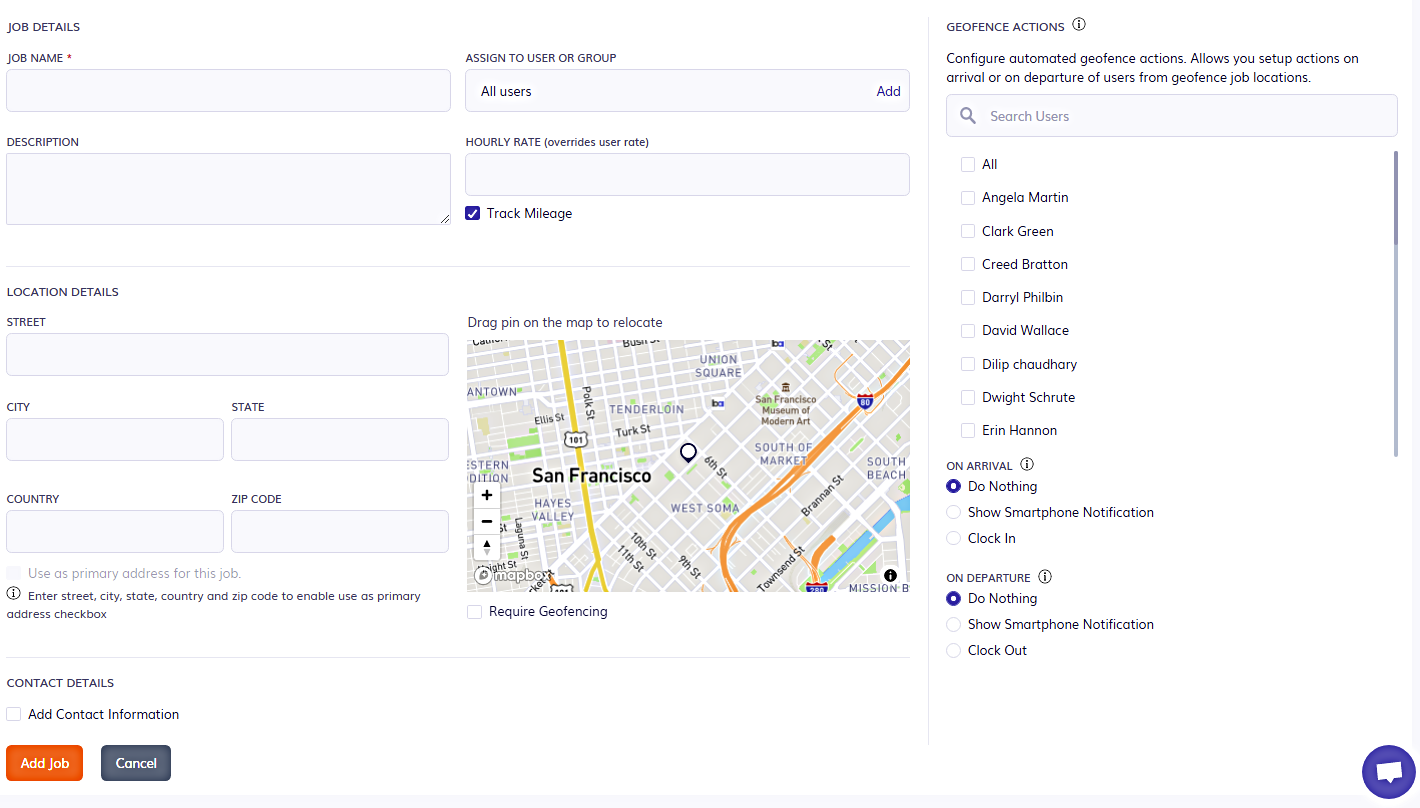 Job Fields
ASSIGN TO EMPLOYEE OR GROUP - If this field is left blank, all Users/Employees will be able to view and clock into/out of the Job.
HOURLY RATE - This rate overrides the Employee rate. It is the dollar amount Users/Employees will be paid while clocked into this Job.
TRACK MILEAGE - Turn this on by checking the box if you require mileage tracking for this job OR if you require Geofencing for this Job.
LOCATION DETAILS - This is the Job Site Location. If you require Geofencing for this job, you must enter an address.
REQUIRE GEOFENCING - If you require a Geofence for this Job, you must turn this on by checking the box.
GEOFENCE ACTIONS - Choose Arrival and Departure actions here. These settings only work for Geofence Jobs.
To Add a Geofence Job, Click here.
MOBILE APP - ANDROID
Log into the Timeero App on your mobile device
Tap the Menu button (hamburger icon) at the top, left hand side of your screen
Tap on Management
Tap on Manage Jobs
Tap on + at the top, right hand side of your screen
Enter the job details
When finished, tap on the arrow located at the top left hand side, of your screen
MOBILE APP - iPHONE
Log into the Timeero App on your mobile device
Tap on More at the bottom, right hand side of your screen
Tap on Manage Jobs
Tap on + at the top, right hand side of your screen
Enter the job details
When finished, tap DONE