Integrate Timeero and ADP Run for free 😁
Using our ADP Run compatible file, you can easily import time & mileage costs from Timeero to your ADP Run account.
Turn on the integration
Timeero will turn on the integration for you.
To request access, please reach out to your account manager, email us at hello@timeero.com, or give us a ring at 1.385.213.4513.
In your ADP account, "Time Sheet Import" must be turned on. Go to Company > Features > Overview to turn it on. If you're unsure of how to turn it on, please contact your ADP rep.
Set up your Timeero account for the ADP Run export
Add employee IDs and hourly wages to Timeero
Log into the Timeero web portal.
Click on Users.
Click on the pencil icon to the far right of the employee's name.
Enter the ADP employee ID in the User ID field.
For rate type, choose HOURLY and then enter the hourly wage for the employee.
Click Update User.
Set up your overtime rules
In Timeero, go to Company Settings > Payroll and Overtime.
At the top of your screen, choose the Week starts on day and set up your OT rules for the entire company (all users), by checking the boxes and filling in the hours. Premium Plan subscriptions allow for Multiple OT Rules.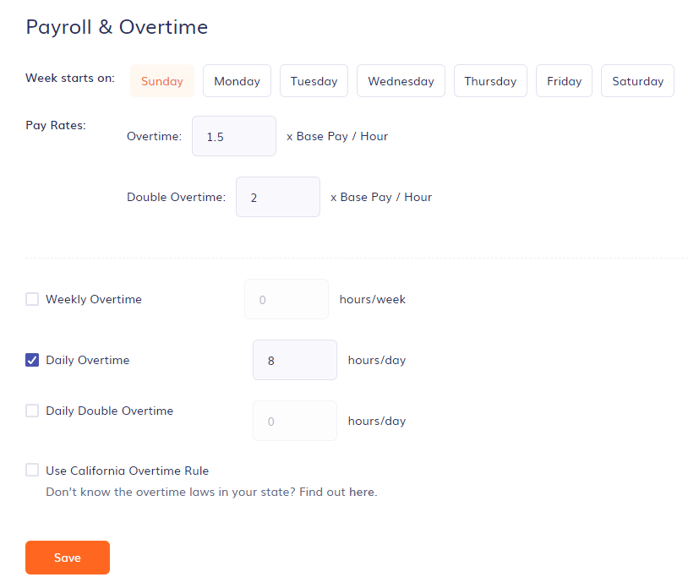 3. Click Save.
Enter a mileage reimbursement rate
In Timeero, go to Company Settings > General and enter the reimbursement rate (per mile) in the MILEAGE COST (PER MILE ) field. Be sure to use decimal format (ex. 0.655). This is a company-wide setting. If some employees do not get reimbursed or they do, but at a different rate, enter that rate in their profile (Users > Pencil Icon) to override the rate set in company settings.
Click Save.
Export time and mileage from Timeero to ADP Run
Log into the Timeero web portal.

Go to Reports and choose the Report by Totals Only.
Select the date range and then click Generate Report.
Once the report is generated, click on EXPORT > Export to ADP CSV.
You will receive a downloaded CSV file that can be uploaded to your ADP account.
On page 18 of this ADP guide, you can review the import instructions. If you're unsure of how to upload the CSV to ADP Run, please get in touch with your ADP rep.